I am an op-ed contributor to the New York Times today urging wine producers to upgrade the quality of wine available in boxes. If you're new to the site, welcome and feel free to explore the site including wine picks. Also, consider subscribing to the site feed or get caught up on my joint research on the carbon footprint of wine.
Overall, I'm disappointed with the quality of box wine here in the U.S. But the time for good box wine has come for environmental as well as economic reasons as I argue in the piece.
There are some rays of hope in the box wine landscape. Unfortunately, the $40, 3-liter D-Tour wine, made by Dominique Lafon of Burgundy and imported by Daniel Johnnes, wine director at Daniel Boulud's restaurants, has been temporarily withdrawn from the market (search for this wine). However, the Cuvee de Pena, an old vine grenache from the French side of the Pyrenees, is still available (find this wine). And the newest and brightest star is the $11 unoaked, organically grown malbec called Yellow + Blue sold in a 1-liter TetraPak (not bag-in-box; find this wine). There's also the Bandit from California (find this wine).
So what do you say about boxed wine? Have your say in the latest poll! And hit the comments with your preferred box selections.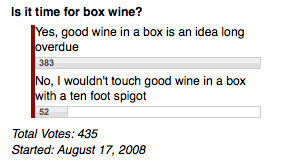 poll now closed
Related: "Drink outside the box" NYT
"An open letter to Jorge Ordonez" [Dr. V]
"How I gave up bottled water and lived to tell the tale" [Dr. V]
Drinking box rosé in the south of France
The excellent image is by Grady McFerrin and ran with the story.