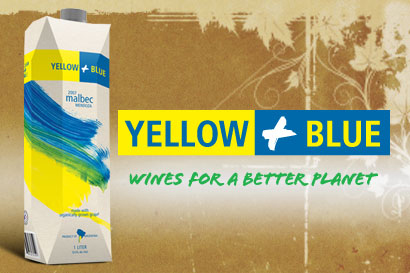 A new wine made from certified organic Malbec grapes will soon be available in the United States. But instead of a bottle, the wine will use lightweight packaging known as TetraPak, traditionally associated with juice boxes, in the name of lowering its carbon footprint.
Matthew Cain, regional sales director for fine wine importer Kermit Lynch for nine years, will be importing the wine through his new company, J. Soif. "Over a period of time I came to the realization that the wine business just doesn't work," he told me in a telephone interview last week. "Eighty percent of wine is drunk within a week. It doesn't make sense to put nine liters of wine in a 40 pound box and ship it thousands of miles."
So Cain, 38, looked to TetraPak. In other countries, he noted, "people are using alternative packaging to bring down the cost of wine. It's not just for poor wine but for good wine. Here in the US, it's only been used as a gimmick." He added about his wine, "I've been in the fine wine trade my entire life and I have no interest in bad wine."
Explaining his motivation, Cain said that he has seen wine prices go up, transportation prices go up, and that made him want to "bring a great wine to the market at a reasonable price." His interest in environmental issues and research on this site about wine's carbon footprint pushed him to make a sustainable wine from beginning to end.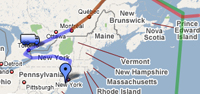 Used his contacts in the fine wine business, he went to Argentina to find a producer growing certified organic grapes. The grapes were destined for bottled wine, not bulk wine, but Cain bought them. Instead of bottling the wine in Mendoza, he put them in a 24,000 liter flexitank. The wine was trucked over the Andes, loaded onto a ship on the Chilean coast, then shipped through the Panama canal and up to Montreal below deck in an insulated container (but not refrigerated). There it was trucked to Toronto where the TetraPak packaging material was waiting. Click on the map to the right to see the route.
The facility in Toronto is also certified organic. The wine is put in the one liter boxes that weigh 40 grams each (compared to 500 – 750g for a bottle) and loaded onto a truck for a warehouse in New Jersey. The total amount of wine will be about 10,000 nine-liter cases.
Using my carbon calculator, I ran the numbers on this wine, called "Yellow + Blue" (makes green–get it?). I figure that each 750 ml of Yellow + Blue Malbec has about half the greenhouse gas emissions of a conventional bottle of wine from Argentina that followed the same route.
The price will follow a similar discount: Yellow + Blue will sell for $10.99 in stores and Cain suggests that the same wine in bottle would sell for about $20. But Yellow + Blue, weighing in at one liter, holds a third more wine than a regular bottle. I look forward to trying it. Are you?
find this wine (release about May 1)