"Merry Christmas!" I said to my aunt as she greeted us at the door for our annual wintry get together with my cousins. "Here's 24 liters of wine!" Although I had told her that I would bring the wine, I hadn't mentioned that it was eight three-liter boxes of wine. Season's greetings!
So my relatives were the latest involuntary recruits in my effort to find the best box wines of 2008. You might think that the best box wine is kind of like being the tallest resident in Gulliver's Lilliput. And you'd mostly be right. But since I called for more wine to be put in box format for economic and environmental reasons earlier this year, I thought that I owed it to you to do a quick survey of the landscape. I still think they make sense economically since they pack in the same amount as four regular bottles and mostly sell for around $20 (although the most expensive one I tried was $40).
What I like best about the packaging is the ability to squeeze off a glass a night for an extended period of time, thirty days or more according to the producers.
Standing tall


1. Yellow + Blue Malbec, Mendoza, Argentina (about $11 for one liter; find this wine)
This organically grown red from Argentina sees no oak, is shipped to North America in a tanker where it is packaged into a Tetra Pak–think juice boxes for adults. I've poured this wine, introduced for the first time in 2008, many times to groups this year, often blind and from a decanter, and it has been almost universally praised. And when I tell them it's the equivalent of $8 a bottle, they usually wonder where they can get a case.
2. "From the tank," Estezargues, 2007. Cotes du Rhone (about $40; find this wine)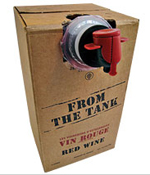 This big blend of grenache, syrah and carignan, has that ripe, juicy quality from many of the wines of the region. New to the US market this year, it's organically grown and has a complexity that you really wouldn't expect from a three liter, bag-in-box format. One word of caution: I found that this wine depreciated a week after opening so it may be best at parties, rather than nursing it over a whole month.
The best of Lilliput
Underdog Wine Merchants is a relatively new unit of The Wine Group, a boring sounding company that is actually the third largest producer of wine in America. They know a thing about box wine too since they make the dreaded Franzia, which has stigmatized the box format almost single handedly. But with Underdog, they are generally cranking quality up a notch, appealing to specific demographics with various brands, which can more often than not, seem to be trying a bit too hard with cutesy names or text on the packaging.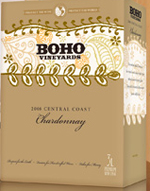 The best of their offerings, in my view, are the BOHO Cabernet Sauvignon and Chardonnay (about $20 for 3L; find this wine). You won't mistake the Cab for a St. Estephe in a blind tasting but it seems to have something approaching on structure, without excessive flab that many super-low-priced Cali Cabs have from oak chips. The Chardonnay is also restrained in it's oak effect, a good thing in my view.
Honorable mention
Darling Hills, Ovation, South Africa (about $20 for 3L; find this wine): a 50-50 blend of Cabernet Sauvignon and Cinsault, the workhorse grape originally from the South of France. It has a smoky note–think chipotle–that some that I served this absolutely adored, others hated. One thing's for certain: the wine changed for the worst after only a couple of weeks of being open, so drink up.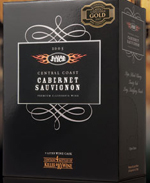 Killer Juice (about $20 for 3L; find this wine): Another wine from Underdog, this wine is packaged with a Harley aesthetic and the dramatic proclamations about the "killer" quality. While I found it a little two brawny and low in acidity, it was a favorite at my aunt's house as my cousins kept squeezing off pours from this one. A crowd pleaser.
I look forward to reviewing box wines again in 2009. Three liter box wines have been a strong growth segment for the past few years and consumer attitude, as least on this site, are ready. So I'm raising a glass in the hope that more producers will continue to see better wines in this format.