Ah, wine bars, with their wine, food, and socializing. And more socializing. In NYC, it's getting easy to find good wine bars but they are packed! Don't forget: wine by the glass is a huge rip-off! OK, now that we've got the issues of overcrowding and high prices out of the way, use wine bars for what they do best (besides meeting other people) -- experimenting with something new for you, either with a flight or by the glass...Feel free to send in your comments or suggestions. The red pushpins are my favorite wine bars, green are new wine bars. Click on them for info, drag the map, also zoom for closeup. Happy exploring! Cheers, Dr. Vino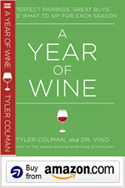 Check out the Wine industry jobs board



Back to DrVino.com or check my value vino picks
See the map of New York City wine shops and Chicago, LA and Paris wine stores
Metioned in The New York Times, on FoodandWine.com, gothamist, and more!