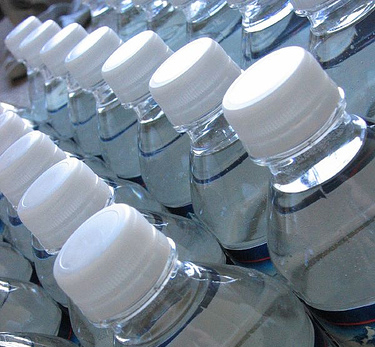 Yes! I made it 30 days with no (er, little) bottled water! And I'm not even living in a yurt, making clothing from alpacas that I'm raising, and eating exclusively local root vegetables.
Thirty days with no bottled water may not seem like a lot. And, quite frankly, it's not. I didn't bring Aquafina to their knees. And I did cause myself a lot of inconvenience.
For those of you who just tuned in, the logic behind my self-imposed ban on bottled water (and soda) is a form of my own carbon offset. Yes, it would have been a lot easier to pay $15 to buy some credits. But I wanted to take matters into my own hands and go bottle-for-bottle offsetting the carbon of my wine consumption. My logic was that the wine I enjoy is unique while the bottled water I can buy at every corner shop is easily substitutable with tap water and a little planning.
So what I've learned:
* Try not to blast the air conditioning with the windows open (actually I jest–the AC was coincidentally–and annoyingly!–broken during the entire period).
* NYC tap water really does taste like chlorine. And it is best served cold, VERY cold.
* Refilling the same Poland Spring bottle for a few weeks straight isn't the best idea.
So am I going to keep up the ban forever? No. But I'm going to reduce the amount of bottled water, especially non-sparkling, that I buy. In fact, British consumers were urged last week to substitute French wine for New Zealand wine in the name of finding a wine that had fewer "food miles" under its belt.
This is nonsense. British wine consumers should instead celebrate the diversity of distinctive wines from around the globe and instead perform their own offsets and drink tap water. Or something else less fun. Just don't give up the diversity of wine!
So what am I going to drink to celebrate? You might think a big glass of Pellegrino. But actually, since I included all club soda and tonic water, I have been thinking about a Tom Collins (gin, lemon juice, simple syrup, and club soda) ever since I read Eric Felten's WSJ article ten days ago. So tonight I'll be mixing up a cocktail before dinner. And maybe I'll just have a glass of tap water to go with my wine at dinner.