Winners of the first-ever American Wine Blog Awards have been announced…and I am thrilled to learn that I have won in two categories!!! I couldn't have done it without you, dear reader, since after the judges selected the finalists, it was up to a popular vote. So thank you for your votes in the final round!
My wife's sister asked what would be the prize if I won. When I replied that it would be a 150 x 150 pixel image that I could put on my web site–there was silence on the other end of the phone.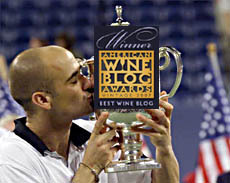 But she didn't hear about the award ceremony! I went out to Flushing Meadows this morning where I received the image/trophy. At right, you can see the crowds thronging in the background. And, oddly, I had to shave my head to accept the award.
More independent wine picks, wine commentary and other ways to fritter away your precious time will be coming your way in the next year on this site. So consider subscribing to the site feed if you haven't done so already. And stay tuned to the site itself too since elves are currently hammering out a new look.
Thanks to Tom at Fermentation for organizing the awards and to the other excellent finalists and winners in the other categories. If for some reason you've stumbled on this posting by accident and don't know our humble corner of the internet, you can take in the lay of the land over at wineblogwatch, which includes hundreds of wine blogs sorted by most recent update.
tags: wine | wine blogs