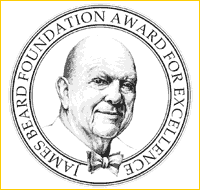 I am thrilled to have been nominated for a James Beard award in hugely broad the category of "Website Focusing on Food, Beverage, Restaurant or Nutrition." Given the fact that so many more people eat, drink beverages other than wine, or are interested in nutrition, I am truly honored to be among the finalists. And thank you, dear reader, for your comments, which make this site a collaborative effort!
My humble blog is nominated alongside Epicurious.com, internet home of Bon Appetit and Gourmet magazines, and Leite's Culinaria, a food site with essays and recipes. See the full list of nominees here in pdf including book authors and many great chefs (and even some winemakers too).
If you are new to this site–or if you are a veteran reader–I will ask you to "pardon our dust" as the cliche goes. I initiated some site improvements that will be finished in a day or so but may cause uneven performance of the site's images in the interim (great timing, eh?). Crackling wine commentary resumes shortly with an enhanced look and feel.