Do you ever wonder where is the closest specialty wine shop? Here is an interactive map to plot wine stores in Chicago and Chicagoland. Feel free to send in your comments or suggestions. While Whole Foods, TJ's, Cost Plus World Market all sell wine, I haven't put any supermarkets (except for Fox & Obel) or national chains on the map. Red pins are my favorite shops, green pins are new ones. Click and drag the map, also zoom in and out and see satellite view or get driving directions. Happy exploring! Cheers, Dr. Vino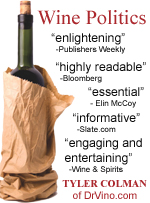 Check out the Wine industry jobs board

See the map of NYC wine shops, Paris wine shops, and Chicago BYOB
See my wine picks
Mentioned in the Tribune, ChiReader, Chicagoist, EatChicago, Gridskipper and more!