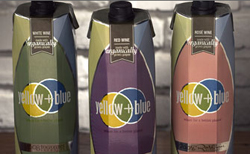 My monthly column on Forbes.com is about box wines. It's an area that I've been interested in for a while and I'm glad to see greater adaptation, acceptance and quality. Click through to see the latest Cotes du Rhone that gets a thumbs up. And which Manhattan restaurant is now putting box wine right on the table.
And, coincidentally, the August issue of O, the Oprah magazine also has a short piece on box wines. They generously called me in to serve as their expert. You can find it on p. 34 in the gutter, wedged between a giant red stiletto and a full page ad for K-Y liquibeads.
The category is still uneven but the quality also appears to be improving. What's happening in your neighborhood: Are box wines improving?
Related: "In the NYT suggesting to drink inside the box"