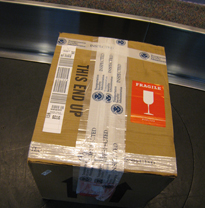 After two bad wine travel experiences this summer, I finally got it right about ten days ago. Returning by plane from a business trip to the Windy City, I found myself unencumbered by either checked baggage or children. Thus the time was right to return to the storage locker that I couldn't empty when we moved from Chicago over three years ago.
I bought two Styrofoam shipping containers at a wine store and filled them with 24 bottles, some collectible, others I could ditch if necessary. Since I was flying United, I was worried; readers have posted comments on this blog about rogue United agents refusing to check passengers with wine. And Paul Gregutt recently wrote about the experiences of some Washington wine country travelers who were only allowed five liters of wine (less than seven bottles) because the airline agent thought the TSA limit on spirits also applied to wine.
Before I hopped in a taxi, I asked the friend I was staying with to print two web pages. First, the United policy on wine in checked baggage, which has no limit, though it does state that wine must be in a "Styrofoam-type" insert. Second, the TSA rules on traveling with alcohol, which state that there is no limit on the amount of wine you can check. I wanted to have these printouts handy in case I got a rogue agent. I also wrote my name, address and flight number on a paper that I put inside the box before I sealed it with packing tape.
At O'Hare, I went straight to curbside to avoid a repeat experience of schlepping a bulky, handleless box any distance, as I have in rental car return lots on previous trips. Fortunately, the skycap was very polite and didn't even flinch when I replied to his question that it was wine in the boxes. He just charged me $40, the current fee for two bags (the fee will be rising to $65 for two bags after November 10). In my euphoria of not having a problem, I gave him a nice tip.
When I collected my boxes from the belt on the other end, there were no wine stains that I had seen on my luggage the last time, without proper packaging. But there was "TSA INSPECTED" tape on the boxes. I just hope Hardy Rodenstock wasn't on TSA duty that day.
Funny, but only after I made it home safely did it occur to me about insurance. I usually rely on my credit card to automatically provide me insurance. But because I had cashed in that increasingly useless currency known as air miles for the flight, I paid only $5, the security fee, for my flight. Had the bags been lost, would I have been covered? I asked Mark Ashley, travel guru at Upgrade: Travel Better, and he told me that I would, in fact, be covered because I paid the entire cost of the ticket ($5) with my credit card (but this varies by card, so read the fine print or call for a "legal opinion"). Cheap tix, free insurance, unbroken bottles–I'll drink to that!
UPDATE: if you're traveling with just a few bottles, several commenters on the previous post recommended a product called the Wine Skin, which looks very good.
Related: "Puzzle of the day: where can you fly with wine in the USA?"
"Poll: bringing wine home in an age of baggage charges"