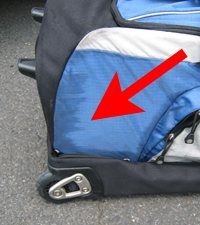 So my trip to Oregon in July was a pinot-drenched journey–literally.
Because I was flying on United, I was a little wary. A previous commenter on this site had noted that the airline had confiscated his wine even though it was in his checked luggage. (Their policy now states that all wine in the hold must be in a Styrofoam shipping container even if it is in luggage.) So I didn't want to splurge on too many bottles or any at too high a price in case they were taken away.
I put six bottles in a cardboard carrier and put it in my wheelie duffel. When I arrived back at Laguardia, my six pack had turned into a a five pack and my bag smelled like a winery. Fortunately, the pinot washed out without a problem.
I've put a lot of wine in my luggage over the years and thus far escaped unscathed. But it can't hurt to use a little extra padding–or even use that Styrofoam shipper! Click through for a gory picture of my broken bottle–and of a funny celeb I saw making a spontaneous gate announcement in the terminal.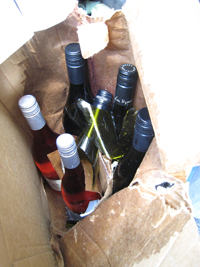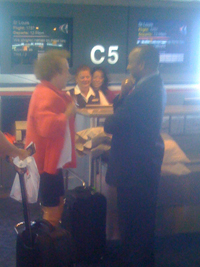 Related:
Bringing wine home from your travels
"Puzzle of the day: where can you fly with wine in the USA?"
"Have wine, can travel"