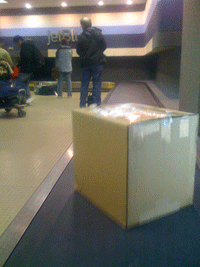 Last February, after some time in Napa and Sonoma, I checked my bag and a case of wine at Oakland airport. The nice guy who helped me at JetBlue asked me if I wanted a "fragile" sticker on my box o' wine. I asked, "Does it really make a difference?"
"Nah," he replied. I appreciated the honesty!
It turns out that trip was the last of a golden era, the era of "free" checked luggage. Now almost all airlines charge $25 for a second bag and American Airlines continues the Ryanairification of American air travel by imposing a $15 fee on the first bag. (Southwest, of all airlines, still allows two checked bags at no additional charge!)
As travel season kicks off with $4-a-gallon gas this Memorial Day, many wine enthusiasts might be giving thought to how we'll bring wine home from our travels. UPS certainly looks better with these new airline surcharges (no schlepping!). But then there's the heat of summer to contend with and it's withering effect on wine–at least the short airline trip would minimize that.
If your travel takes you to a domestic winery this summer, how will you bring the loot home?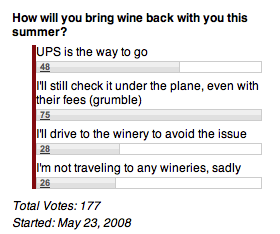 Poll now closed
Related: Bringing wine home from overseas