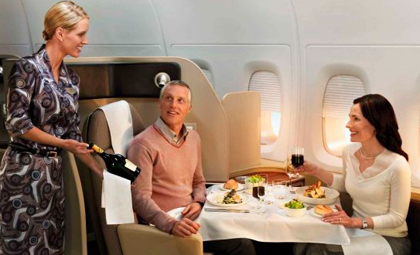 If there's one thing that frustrates wine enthusiasts when traveling by air–and, no, we're not including pat-downs–it's the liquids ban. Take wine enthusiasts, put them in a giant metal tube for hours on end, thrust their knees into the seat back in front of them and then attempt to ply them with tiny bottles of undifferentiated, $8 wine (credit cards only, please!).
A possible end to the liquids ban was floated a few weeks ago and with it the prospect of salvation for wine enthusiasts on planes. But Janet Napolitano, Homeland Security chief, threw her own Ziploc of cold water on the idea.
Odd as it may seem, there are some options to BYOW on board. Domestically, there are a few wine shops beyond security, such as the chain of Vino Volo locations or the Yadkin Valley wine shop in Charlotte, that sell wine to go. Pick up a bottle at one of these and it will be more fun than a grande latte–as long as you just like looking at the latte, that is. According to Mark Ashley, editor of Upgrade: Travel Better and our Senior Wine and Planes Correspondent, FAA regulations require flight attendants to pour all alcohol onboard planes. He says that back in a bygone era of travel, the flight attendants might have cooperated with a wink and a nod if asked to pour a passenger's wine for them. But today, he says that is unlikely given the rise in unruly passengers and the general peevishness of the in-flight crew.
The ideal for flying with wine would be to bring a bottle from home. No airport markups. Better selection. But the only place that is going to happen is a foreign country. Japan has allowed liquids on planes (for domestic flights only) since introducing liquid bomb detectors in 2006 (!). Mark Ashley says that another country that allows liquids on board domestic flights is New Zealand, though he is unsure of whether the alcohol consumption policies in these two countries are set nationally or are airline policy.
One indication came on Twitter last year when Hristo Zisovski, a New York-based sommelier, tweeted, "Just got onto the plane carrying a open, half full bottle of Pinot Noir. Gotta love NZ airlines!"
What are your experiences, tips or thoughts about upgrading wine in flight? And please, belts off, shoes off, jackets off as you approach the comments section.
Related: "HOW TO: successfully check wine on a plane"