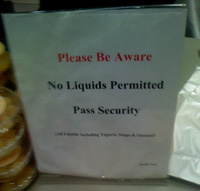 Federal law currently prevents taking wine on board airplanes. Or does it?
As we are in a busy travel time of year, some wine enthusiasts may be wanting to travel with the juice (no, Barry Bonds, fermented grape juice) and most will be frustrated. But it is possible!
The puzzle of the day is thus: where (and how) can you bring your own wine into the cabin with you on a commercial flight in the US?
Comments are open.
Related: "Wine: you CAN take it with you when you go (home)"