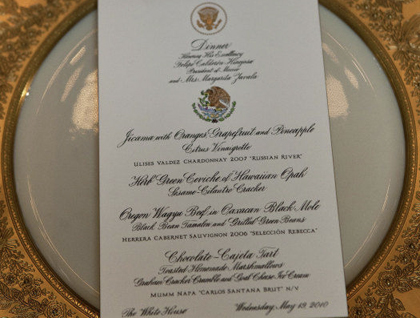 Remember the state dinner when the White House served green curry shrimp with a 15.6% alcohol grenache for the Indian premier? (and the typos!) Or a "Carlos Santana" brut sparkling wine with dessert for the Mexican president? Oh how we howled at those selections wondering if the White House wine steward was trying to derail diplomacy single-handedly.
Then, with the open-air state dinner for Angela Merkel, the White House stopped publishing the names of the wines served. Thanks to your contributions, we were able to determine two of the wines.
Was it the slings and arrows of the blogosphere that prompted the new policy? Probably not. It's more likely that the White House doesn't want to take the heat at this point in the economic recovery for pouring expensive wines: After the White House served a wine selling worth about $400 a bottle to President Hu of China, Stephen Colbert joked that it "should have been a sweatpants-potluck with box wine and a sleeve of Oreos." Somehow, I doubt Colbert will ever be the White House usher.
The new policy of vinous non-disclosure prompted Bloomberg political reporter Margaret Talev to investigate. But she didn't get a substantive response from either the usher or the First Lady's office explaining the new policy.
This week, David Cameron will be in DC for a state dinner. Without knowing the menu, I think the White House should look to repay the courtesy of the Queen when the President visited London and underscore the "special relationship" between the two countries. After highlighting some up-and-coming producers, it would be appropriate to uncork some California cabernet with age, such as a top wine from the 1991 vintage, or reaching even further back to one of the gems from the 1970s. Subtle, elegant, distinguished and generous–it's hard to argue with those qualities at the highest level of hospitality.
What do you think the White House should pour for Cameron? And do you think they should return to printing the wines on the menu or otherwise disclose the names of the actual wines poured?