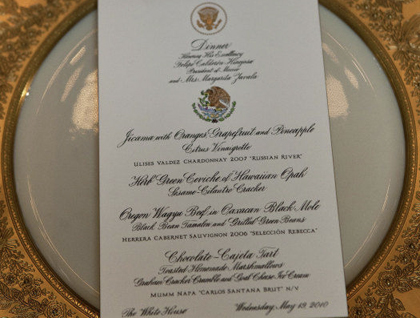 Last night, the Obamas welcomed President Calderón of Mexico and Mrs. Margarita Zavala to the White House for a state dinner, the second of this administration. As with the first menu, the dishes served offered a tip of the toque to the visiting dignitaries' cuisine. This time they brought in Chef Rick Bayless who is known more for his exploring the regional foods of Mexico than for his Burger King ad.
For his part, Daniel Shanks, the White House wine steward, tried once again to derail international relations with the wine pairings. When will they start color coding the menus to warn the guests? The theme, apparently, was California wines with ties to Mexico. Given that, here's the range of California wines they could choose from: almost all of them. The California wine industry would produce few bottles of wine if it weren't for the work of Mexican viticultural laborers. Raising any glass of California wine then on this august occasion could be accompanied by a mention of their enormous contributions. They could save the discussion on immigration policy for lunch.
Here's the official menu, with wine pairings:
Jicama with Oranges, Grapefruit, and Pineapple
Citrus Vinaigrette
[Paul Hobbs?] Ulises Valdez Chardonnay 2007 "Russian River"
Herb Green Ceviche of Hawaiian Opah
Sesame-Cilantro Cracker
Oregon Wagyu Beef in Oaxacan Black Mole
Black Bean Tamalon and Grilled Green Beans
Herrera Cabernet Sauvignon 2006 "Selección Rebecca"
Chocolate-Cajeta Tart
Toasted Homemade Marshmallows
Graham Cracker Crumble and Goat Cheese Ice Cream
Mumm Napa "Carlos Santana Brut" N/V
For the first two courses, nothing pairs with citrus and ceviche like a 14.7% alcohol Chardonnay! Ulises Valdez has a compelling story, no doubt, but perhaps his Sauvignon Blanc might have made a better pairing? (Assuming, that is, that the Chardonnay on the menu was made by Ulises Valdez–there is no mention of the wine on his website, but there is a 2007 Ulises Valdez Chardonnay made by Paul Hobbs.) The third course might actually work, given the chocolately sweetness of the mole that may be reflected in the wine. But with the dessert course, it's hard to know what's the most disastrous, pouring a celebrity wine or offering a brut sparkling wine with chocolate and marshmallows!
If you were the sommelier for the day, what would you pour?
reduced-size, cropped image from huffingtonpost.com