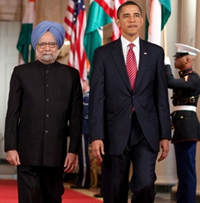 Right now, at 1600 Pennsylvania Avenue, Dr. Manmohan Singh, prime minister of India, is being feted at a state dinner! The Obamas brought in chef Marcus Samuelsson of Aquavit in New York to cook a meatless, Indian-inspired meal for the 320 honored guests. (Get full details at nytimes.com) In a toast, the President hailed the American relationship with India a "great and growing partnership."
But cutting to the chase for us wine geeks, are the wines fulfilling a great partnership with the food? One course in particular caught my eye: guests wanting the green curry shrimp with smoked collard greens will be offered the Beckmen, Garnache [sic] from the Santa Ynez. While I haven't tried the wine, one of Beckmen's other grenache wines rolls in at 15.6% alcohol, not exactly my recipe for good times with green curry. I might just hold on to that Riesling from the previous course if I were seated next to Dr. Sanjay Gupta, Jhumpa Lhiri, Bobby Jindal or Steven Spielberg tonight.
What would you pair if you were the USA sommelier with this course? (Only American wines are served at the White House.) Full menu selections come after the jump.
Potato and Eggplant Salad
White House Arugula
With Onion Seed Vinaigrette
2008 Sauvignon Blanc, Modus Operandi, Napa Valley, California
≈
Red Lentil Soup with Fresh Cheese
2006 Riesling, Brooks "Ara", Wilamette Valley, Oregon
≈
Roasted Potato Dumplings
With Tomato Chutney
Chick Peas and Okra
or
Green Curry Prawns
Caramelized Salsify
With Smoked Collard Greens
and
Coconut Aged Basmati
2007 Granache, Beckmen Vineyards, Santa Ynez, California
≈
Pumpkin Pie Tart
Pear Tatin
Whipped Cream and Caramel Sauce
Sparkling Chardonnay, Thibaut Janisson Brut, Monticello, Virginia
≈
Petits Fours and Coffee
Cashew Brittle
Pecan Pralines
Passion Fruit and Vanilla Gelees
Chocolate-Dipped Fruit
Full formal menu (pdf); image a reduced size crop from whitehouse.gov