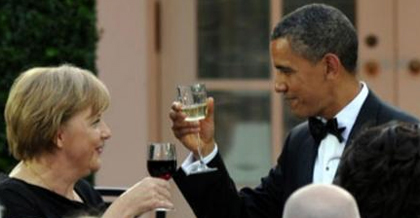 Last night the Obamas played host to Angela Merkel for a "State Dinner" (even though she is the head of government, not state–gasp!) in the Rose Garden. The meal included a salad from the White House vegetable garden; the full menu follows below. Oddly, the wine pairings were not announced! Has the usher at the White House grown tired of the slings and arrows from the blogosphere with each state dinner menu?
No matter–that leaves us a chance to do the pairings ourselves! Descendants of Italian immigrants may grab much of the spotlight in American wine today but German immigrants also have done their part. A first-generation one is Hermann J. Wiemer who makes a very nice dry riesling that would go well with that salad. I would be inclined to a young and fruity pinot noir to go with the tuna and outdoor dining; maybe a 2008 from Oregon? Maybe even a nice rosé, such as Hamacher or Copain? And for the steak, even though it is a state dinner, outside trumps high-octane and probably pricey wine too, so maybe domestic dornfelder or blaufrankisch if a good one could be found? One of Ernie Loosen's late-harvest rieslings, such as Eroica, might be a good way to conclude the meal. But since they already have an apple strudel, I'd be inclined not to let the two sweets compete.
What would you serve? Domestic wines only need apply.
Also hit the comments if you know which wines were actually served. Btw, based on previous menus, Vegas has the odds at 2-1 that a semi-sweet bubbly accompanied the dessert.
* * *
State Dinner menu
June 7, 2011
German Chancellor Dr. Angela Merkel
White House Garden Chopped Salad
Fine Herbs
White House Honey Gastrique
* * *
Tuna Tartare with Rye Crisps
Pickled Young Carrots and Mustard Oil
Spring Pea Salad
Shaved Ham and Ginger Snaps
* * *
Petite Filet
With Maryland Crab Ravioli
Wild Ramp Puree
* * *
Apple Strudel
Golden Raisins and Topfen
* * *
An American wine will be paired with each course
Local Menu Selection
All of the courses are subtly infused with the perennial and annual
herbs from the garden.
The first course reflects a cornucopia of spring harvest, aptly
named, "White House Garden Chopped Salad." The salad
is tossed in a vinaigrette made with White House honey and
apple cider vinegar and garnished with spiced Mammoth
Pecans from Georgia.
The tuna in the second course is from Hawaii. The main course
consists of Maryland blue crab and is served on a bed of wild ramp
puree from West Virginia.
The meal is completed with a delicious dessert, an apple strudel.
The apples are from Maryland, the raisins from California and the
topfen, a Farmer's Cheese, is from Vermont. The apple and topfen
combination is a twist on a traditional German recipe for strudel
and will be served with schlag, an unsweetened whipped cream.
White House guest list (pdf)
Menu and other dinner details (pdf)