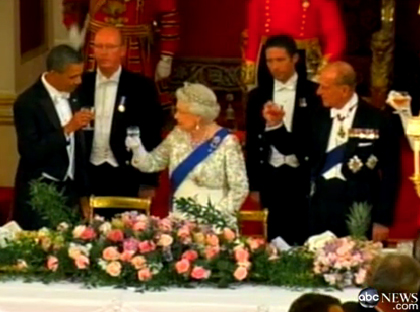 Even with word of cutbacks in the wines poured at British state events, the Queen offered some choice wines for President Obama and guest this week: 2004 William Fevre, Les Clos, Grand Cru Chablis; 1990 Domaine de la Romanée Conti, Echezeaux; and a 1963 port. Just a tad better than the selections at the White House!
However, perhaps in a nod to the White House, which only serves domestic wines, Buckingham Palace also uncorked an English sparkling wine, the 2004 Cuvee Merret Fitzrovia Rosé from Ridgeview in Sussex. The Palace served a 2002 Veuve Clicquot, cuvée "Rich" (how blingy!), with 28 g/l dosage.
In other news from the "Leaders and Liters" desk, Christine Lagarde is a teetotaler.