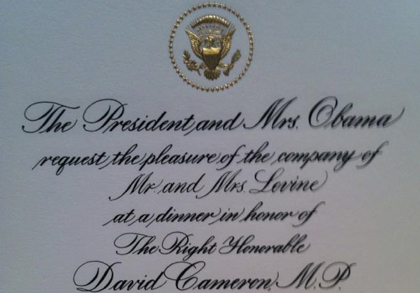 Even though the White House is no longer printing the names of the wines on the menu nor releasing them after the fact, it turns out that we had our own "deep throat" at the event: none other than the wine person of the last decade, founder of Cellertracker, Eric Levine.
Sure enough, Eric posted the wines served, complete with tasting notes. For the full menu (pdf), click here. And, on a related note, what Michelle Obama has done with the organic garden at the White House is terrific.
Appetizers: crostini
Eric says there were a range of options at the bar and he opted for the Thibaut-Janisson Brut NV (limited availability; about $29). USA, Virginia, Central Region, Monticello. This seems to be a staple at the White House since it was on the menu (back when the wines were on the menu) for Prime Minister Singh.
Halibut course and salad course
2009 Peter Michael Chardonnay Ma Belle-Fille (about $80) USA, California, Sonoma County, Knights Valley
Eric describes the wine as "Prototypical Cali Chard." Peter Michael also has appeared before at state dinners. In fact, the Bush White House served the Peter Michael "Les Pavots" 2003 (about $275) to none other than Queen Elizabeth when she visited in 2007.
Second course: bison Wellington
2008 Leonetti Cellar Cabernet Sauvignon Walla Walla Valley (about $65) USA, Washington, Columbia Valley, Walla Walla Valley
Eric has a lot of experience with the producer but laments how young it is, saying while it worked with the food, the wine is "not so civilized yet at this stage."
Dessert: steamed lemon pudding atop a bed of apples
2007 Iron Horse Vineyards Russian Cuvée (about $30) USA, California, Sonoma County, Green Valley
The White House usher has frequently poured sparkling wines with dessert; as I've said before, I'm not a fan of the idea as I think the dessert's sweetness is likely to leave the wine tasting too tart, even in this case. Just let dessert be the dessert. Eric says "a nice idea but a tough pairing to really appreciate." Iron Horse has also been poured numerous times at the White House; this wine, which has a higher dosage (the amount of residual sugar is unspecified), was developed for the Reagan-Gorbachev summits.
I'm still puzzled by the White House not listing the wines on the menu. If there was too much negative reaction to the wines served at the Hu dinner, which seems to have prompted this bizarre cork and dagger policy of not listing the wines, why not list these wines since none was over $100?
And why not be more original and creative? It's not about simply spending more (as Bush did on the $600 Shafer Hillside select), it's about being creative, even if you have a (artificially) tight budget. There's a lot of excitement in American wine. Find it. Serve it. Otherwise, to paraphrase George W. Bush, it's as if the White House usher is saying "Message: I don't care."