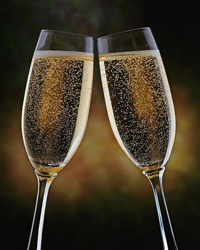 Does champagne go to your head faster because of the bubbles?
No, it goes to your head faster because you are on a date.
Does Champagne give you gas?
No. Does Pellegrino?
Is Champagne made from champagne grapes?
No, those are for decoration. The champagne in your glass likely is made from Chardonnay, Pinot Noir, and/or Pinot Meunier grapes.
What's the best Italian Champagne?
Champagne comes from…the Champagne region! Bubblies from Italy are mostly Prosecco. While both can be fun, they are made differently, taste different, and are priced differently. In the past, I've enjoyed the Bisol, "Crede," prosecco (about $15).
Sweet Champagne gives me a headache. Are there any ones that are not sweet?
Champagne is not naturally sweet–sweetness is added via a shot of something sweet called the "dosage," placed just before the cork goes in. The trend for the producers of Champagne that wine geeks favor is a throttling back on dosage and you may see wines labeled "zero" or "extra brut" indicating that the amount of residual sugar is below the level of perception. As to those headaches, maybe try taking only one flute as the tray gets passed around at the holiday party?
I don't have flutes. Can I still have Champagne?
Yes, by all means, use a white wine glass. The bubbles will dissipate sooner but you will likely get better aromatics.
What's the best way to open Champagne?
Well, the best way bar none is to be like the Japanese bottle slinger. Next best, try to go for the world sabering record in one minute. But if you really want to open a bottle like a pro, see our How to: open a Champagne bottle.
What's a good Champagne to give?
If you're looking for a blingy name that people may know, try the "brut Premier" from Roederer (maker of Cristal), about $35. For an artisanal Champagne, try the Camille Saves, Carte Blanche ($45), a blend of mostly pinot noir that makes for a delicious aperitif or companion to a meal. (find these wines at retail)