Dear Dr. Vino,

I just discovered that champagne grapes are really tasty. I bet they would pair well with champagne…

Do they make Champagne or is that a marketing thing?

Paul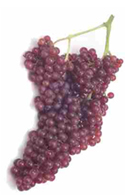 It's a marketing thing. Those sweet, pea-sized grapes that usually appear as a garnish (or in soft focus on greeting cards next to cheese and a glass of wine) are actually black Corinth grapes. When dried, they produce something confusingly called Zante currants.
Champagne almost always comes from Chardonnay and/or Pinot Noir and/or Pinot Meunier grapes. And it comes from the Champagne region, which, as far as Dr. Vino operatives have ascertained, has zero acres of black Corinth grapes.