The flute has been the glass of choice for champagne enthusiasts for decades. If the folks at Champagne house Charles Heidsieck have their way, the flute's days are numbered.
In New York on Wednesday, they poured their entry-level, Brut NV in both a classic flute as well as a white wine glass. The aromas in the wine glass were much richer in large part because you can actually stick your nose in a wine glass, which is not the case with a flute.
"The Champagnois have communicated around the bubbles, not the wine," said a spokesman.
The flute accentuates the bubbles coming off the bottom because of a "poil mousse," or a roughened "scratch point," said Maxmilian Riedel, also on hand for the event. Regular wine glasses do not have a scratch point, thus any bead tends to be a bit willy nilly, if even present at all. (See the scintillating 15-second video above for comparison of the bubbles!)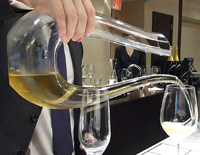 The thrust of the presentation, however, was the unveiling of a "uniquely designed decanter" by Riedel for Charles Heidsieck. The "organic lyre 'U' shape" is handmade and mouth-blown and bears a striking resemblance to the "Amadeo" Riedel decanter with a Charles Heidsieck badge. A bottle of the Charles Heidsieck Blanc des Millenaires 1995, a lovely wine, comes with the decanter in a presentation box for $600.
"I think there's nothing better than aged Champagne," Riedel said. "And that's what happens in the decanter. I decant to enrich the wine, not to lose the bubbles."
Are you going to throw out your flutes and start serving your Champagne in white wine glasses? Or from a lyre-shaped decanter?