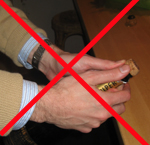 Look like an aggressive moron: Remove foil and wire basket around cork. Clasp bottle with both hands by the neck and work cork out with both thumbs. Shaking optional. For safest results, this method is only recommended off the side of a boat.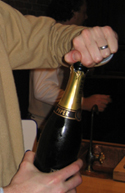 Look like a sommelier: Remove foil and wire basket. Place palm of left hand over cork. Clasp and gently twist cork. Pour chilled champagne into nearby flute. Switch hands if you're left handed or want a "10" for degree of difficulty.
Look like a ninja sommelier (champagne sabering): Remove foil completely from the neck of the bottle and wire cork basket. Find the seam of the bottle with your thumb. Find a saber, machete or other sword-like instrument lying around. Holding the bottle firmly in your left hand, position sword at the base of the neck of the bottle on the seam.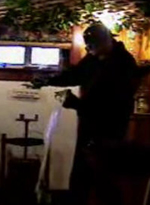 Swiftly move the sword up the the seam and strike the glass lip right where the seam meets it. Ideally the cork and top portion of the bottle will fly off. Note: best done outside. Also note, this will require much practice so as they say, "don't try this at home"–or on a date since you might end up looking like this guy and wasting an entire bottle of bubbly (not to mention looking like a dork).
Recommended boutique, grower champagnes:
Pierre Gimonnet, nonvintage, $34 find this champagne
A blanc de blancs (only from chardonnay grapes) that has pleasant notes of green apple.
Lamandrier-Bernier, nonvintage, $38 find this champagne
A fresh, crisp wine from a boutique producer who practices biodynamics, a sort of "organic plus" style of farming.
Jean Milan, Terres de Noel, 2000, $70 find this champagne
This is also a blanc de blanc although richer than the other two in part thanks to the single vineyard where the grapes are grown but also because of a dash more sugar though it is hardly perceptible.
See my previous notes on rose champagnes.
tags: wine | uncorking champagne | champagne sabering