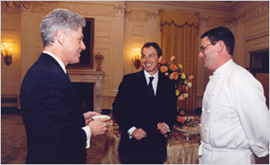 Last night I ate a dinner made by "cookie." Or at least that's what the President called him. Yes, that President.
Walter Scheib, Executive Chef at the White House for 11 years, gave a talk at NYU interspersed between three courses about his time in the White House.
In 1994, his wife saw in the newspaper that the White House chef had resigned. Chef Scheib was then at the Greenbrier in West Virginia and he saw no reason to apply. As he told the story, he and his wife were on a plane and he couldn't escape her enthusiastic encouragement for the whole flight. The next morning when he left for work, his wife presented him with his resume and a cover letter to sign and send to 1600 Pennsylvania Avenue. Smart woman.
With 4000 applicants whittled down to 30 finalists and 10 who were ultimately brought in to cook a test meal, Scheib described it as a American Idol before there was American Idol.
Hillary Clinton was the one doing the hiring. She said that she wanted a chef who cooked American cuisine, a break with the tradition with French chefs. He cooked an audition lunch for the then-First Lady and her staff. Even though he called that one of the three most important meals he cooked during his tenure he neglected to save the menu from that day. But whatever it was, it got him the job.
He described the White House kitchen as a cramped at 30′ x 30′ and it had not been updated since 1976. There were two septuagenarian French chefs on the staff. Scheib put in all new appliances from stainless steel, high BTU ranges to extractor hoods. And he told the chefs that he would be bringing in a new style of food with spices ranging from curry to habanero. They said "that's great!" And then they retired.
The meal that Chef Scheib prepared last night at the NYU Torch Club was bipartisan. The first dish was sweet potato and red curry soup with kefir and lemon grass, a favorite of Chelsea Clinton's. I expected not to like it. But it was excellent, a blend of light sweetness followed by a gentle heat of the curry. It's amazing to have a food that has a tasting arc like a wine. Apparently Tony Blair smelled Chelsea having it at Camp David one time, tried it, and asked the chef to prepare it for him as a sauce for his lobster the next time he visited the White House.
The second course came courtesy of the Bush twins. One time the family was away from the White House and Jenna and Barbara decided to come back. And have 40 friends over. Chef Scheib thought they would want to do a cookout and arranged for a drop shipment of beef. Only at 2:30 that Saturday afternoon, the twins told him they wanted to have a mini state dinner, in the main dining room with fancy china, and their friends would be dressing up. Deep six the cookout grub he wondered? Oh no, they twins replied that they would have it in the main dining room.
So knowing their love of margaritas, he prepared a lime-tequila sauce and reduced it to a mere glaze for the beef. Fried plantain chips soared over the meat, which was served on a bed of fresh mango and banana. That was our course number two. Scheib said that the Bush twins remarked after the meal that it was a pity to waste that much tequila.
Finally, we had a bipartisan dessert, honey-lavender ice cream and peach-berry cobbler. The Bushes apparently like Blue Bell ice cream from Texas. But Chef Scheib and his crew wanted to make their own. So they ground real vanilla beans, replaced half the sugar with honey and added lavender blossoms. The result was an amazingly intense ice cream that was gooey thanks to the honey and beautifully delicate with the lavender. The cobbler was fairly standard. But Bill Clinton likes it so much that he wants to have it at Chelsea's wedding.
As your Senior Wine Correspondent I had to ask about the White House wine during the Q&A. Scheib joked that the White House has a great cellar: it's called the state of California. Seriously, he said that the White House cellar is actually quite small, only about 300 bottles. Whenever they had an event that called for wine they would work with a winery to obtain their best wines–often from the personal collections of the vintners themselves. They rotate the wines very often so no one wine is considered a house wine. And they do draw from states beyond California too.
All in all it was a nourishing meal on many levels. This election day, vote for good food.
Related:
The American Chef, Chef Scheib's web site, complete with recipes.
The list of food and wine offerings at NYU/James Beard Foundation
tags: wine | food and drink | white house | walter scheib