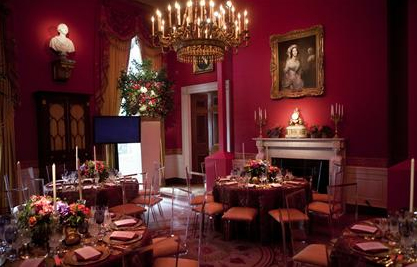 Obviously, a lot of issues are on the metaphorical table as President Obama entertains China's president Hu Jintao. But what's in the glass? They can't serve Lafite, after all, since the White House only pours domestic wins and this menu is set to be "quintessentially American."
Given previous bombs served up by the White House usher, I chuckled when I saw the headline at the nytimes.com: "White House looks to avoid gaffes during Chinese visit." But that's just what they've done with a conservative menu and wine pairings.
Chardonnay and lobster? Check. If you're gonna have a big chardonnay, might as well be with lobster. I've never tried the DuMOL Russian River Chard (about $50; find this wine), but several tasting notes on CellarTracker describe it as big and oaky.
Rib eye and young cabernet? Quintessentially American, indeed. The Quilceda Creek Cabernet 2005 from Washington State's Columbia Valley is collectible and coveted. It's not the current release and is pricey at about $250 a bottle. CellarTracker users really like this wine; Jay Miller, reviewer for The Wine Advocate, scored it 100 points. Stephen Tanzer described it as, "wonderfully bright for such a ripe wine, and explosively long on the aftertaste" and scored it in the 94-97 range. It's probably years away from being ready so I hope they can find a few decanters around the White House.
And, finally, the menu pairs a botrytized Washington state riesling with the apple pie and ice cream. I'm not a fan of sweet on sweet. But maybe it's enough to get Hu Jintao to grab the mic, and start singing.
The complete dinner menu
D'Anjou Pear Salad with Farmstead Goat Cheese
Fennel, Black Walnuts, and White Balsamic
Poached Main Lobster
Orange Glaze Carrots and Black Trumpet Mushrooms
Dumol Chardonnay "Russian River" 2008
Lemon Sorbet
Dry Aged Rib Eye with Buttermilk Crisp Onions
Double Stuffed Potatoes and Creamed Spinach
Quilceda Creek Cabernet "Columbia Valley" 2005 (about $250; find this wine)
Old Fashioned Apple Pie with Vanilla Ice Cream
Poet's Leap Riesling "Botrytis" 2008 (find this wine)
Related: "Green curry prawns – an "impossible" pairing from the White House state dinner"
"State dinner numero dos: Brut-al wine pairings"