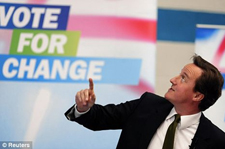 The Independent reports that the British government has spent more than £17,500 on wine since the May 6 election. This adds to existing cellar of 39,500 bottles bringing the total value of the wine cellar to £864,000. The Foreign Office minister who oversees the cellar, Henry Bellingham, insisted last week that buying the wines young saves the British taxpayer money. With the revelations came calls that they cellar's contents should be sold.
Since taking office, Prime Minister David Cameron and his cabinet have pushed for budget cuts and austerity including cuts to public sector pay and pensions to right the deficit. The previous parliamentary session had been rocked by questionable MP expenses, such as country manor moat cleaning.
How much is too much for a government wine cellar? The White House wine cellar is pretty small, less than 500 bottles, which has led to an (abysmally executed) ad hoc approach to formal dinners. But almost 40,000 bottles? That seems a little high, especially in an age of austerity.
The government will not provide a detailed inventory of the cellars. Bellingham said, "The database is not released into the public domain because of the likely impact on GH's commercial interests and those of its suppliers and future ability to obtain value for money."
Given that there are pricey first-growth Bordeaux, there must be a lot of plonk in there too to arrive at the £21.87 average bottle price in the cellar. And given the stated preference for buying young wines, was the Foreign Office buying futures on Bordeaux 2009? If so, they probably burned up the £17,500 in a hurry. The full statement from the Foreign Office follows after the jump:
"Government Hospitality (GH) in Protocol Directorate of the Foreign and Commonwealth Office has responsibility for the management of the stock in the Government wine cellar. Apart from beverage wines that are bought on an ad hoc basis, GH usually buys new stock on two or three occasions each year, as advised by the GH Advisory Committee for the Purchase of Wine.
"GH buys wines young, when first available in the retail market and relatively less expensive, and stores them until they are ready to use. It purchases throughout the year according to its requirements, market rates, availability and value for money. Since May 6, 2010 Government Hospitality has spent £17,698 on new stock for the cellar.
"None of these wines has yet been used. Careful management of the Government wine cellar enables GH to provide wine for high profile events at significantly below the current market rate, making substantial savings for the taxpayer."