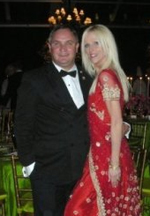 SPIT: invitations. SPIT: glassware
All the talk this long weekend was about the White House state dinner. And perhaps to the surprise of wine lovers, it wasn't about the two typos and at least one disastrous food-wine pairing on the menu! Instead, it was about the "party crashers," Tareq and Michaele Salahi, who waltzed into the formal dinner without being on the guest list. It turns out there is a winery angle: they are owners of a Virginia winery that has filed for bankruptcy. While various creditors are making claims, the worst offense to one visitor to their Oasis Winery was the plastic cups in the tasting room!
SIPPED: logistics photos! Mmmm!
The Daily Mail published photos of 36 million bottles of wine in an English warehouse. Although their Christmas angle was different, they do note two interesting things: first, that Constellation self-distributes in England, unlike the US; and, second, they ship wine not glass by bottling all the wine in the UK after importing it in 25,000 liter bulk tanks.
SIPPED: ultra-premium wine
Want to upgrade from Kendall-Jackson Vintner's Reserve wines? The Sonoma-based wine group now offers something new: customers who drop $30k get to taste and talk with the KJ head winemaker who will learn their wine preferences and produce a case of wine (12 bottles) with custom labels. Only $2,500 each! [Luxist; ht @ItalianWineGuy]
Photo via Facebook