How much wine can you bring back from your foreign travels? More than I thought, it turns out.
I just got back from a great couple of weeks in France, first at Vinexpo, and then with my family. Of course, we found lots of great wines to drink while we were there and even bought too much, and were forced to bring some back.
But I was apparently mistaken about the limit on just how much we could bring back–I thought we were allowed only one liter each, so we were forced to drink almost all the wines we got while we were there. I've written up one already — more notes forthcoming.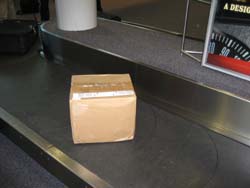 It turns out that all that guzzling might have been avoided if I had studied up on the US rules first. Customs and Border Protection limits you to one liter of alcohol free of tax. But beyond the one liter, the useful "Know before you go" Customs pamphlet elaborates that "Federal regulations allow you to bring back more than one liter of alcoholic beverage for personal use, but, as with extra tobacco, you will have to pay duty and Internal Revenue Service tax."
While they don't mention the IRS tax rate, anyone care to guess what the Customs duty is? Three percent! That's it!
Despite the inconvenience of traveling with wine, us wine geeks can revel in bringing back wines that are not commercially imported to the US or are much less expensive overseas! Consider these examples:
I went to one winery and tasted a wine for 10 euros. Later I found the wine online for $30 in the US (plus sales tax and/or shipping). This wine would be a great one to bring back.
Or let's say you find a 1999 red Burgundy at a store in Paris that sells for $60 there versus $125 at home (such a find is possible according to one of my friends). One case of this wine is nine liters so that means eight liters are taxable–though traveling with a spouse could bring that down to seven–or about 11 bottles, or $660. The duty? $19.80. I've paid more than that in corkage fees at restaurants!
Furthermore, some of the more savvy wine retailers may even offer the tax rebate forms for purchases over a certain amount. In that case, our case of red Burgundy falls by about 20 percent in price after the VAT is reimbursed at the airport. It just keeps getting better!
Some other considerations:
Your port of entry in the US may be in a state that levies additional taxes or even limits "imports." Check here for contact info for state agencies.
Airlines may have weight restrictions imposed on coach class baggage, usually two bags at 50 pounds each. I've checked wine as baggage and had no problem with a case weighing 40 pounds.
You're only allowed one liter free of tax every thirty days.
"Unusual quantities" are likely to raise eyebrows according to the Customs pamphlet.
Bonne chance! Hit the comments with your experiences or wines that would be on your list to pick up.