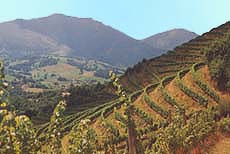 In the bit of the Basque Country that lies on the French side of the Pyrenees is the small appellation of Irouléguy. Don't worry: I'd never heard of the steeply sloped vineyard area either.
I was in the excellent little shop, La Derniere Goutte in the 6th arrondissement of Paris last week. I told Juan Sanchez, the American owner who seems to know everyone who comes into the shop, that I was looking for an interesting dry white and he pointed me to the Arretxea Hegoxuri from Irouléguy. It's a blend of 50% petit manseng, 40% gros manseg, 10% corbu–and yes those are all grapes. It's partially barrel fermented.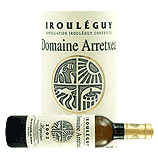 With wildly aromatic notes of tropical fruits–pineapple, melon–the dry wine has a wonderfully balanced acidity and mountain mineral verve on the palate. It's no doubt makes it the best petit manseng you've ever had. And the vignerons, Therese et Michel Riouspeyrous, farm biodynamically.
But the story does not end there. Bottled as a humble vin de table yet sells for 20 euros, the wine was meant to be an appellation wine. According to the back label, the natural fermentation was slow in 2005 and when it came time to give a sample to the mandatory taste-test component of the residual sugar level was 0.2 grams above the appellation limit. So rather than mess with the wine, the Riouspeyrouses decided to bottle it as a vin de table. That explains why there's no vintage or region on the wine. And why Juan Sanchez rolled his eyes about how the appellation system doesn't always help natural wines.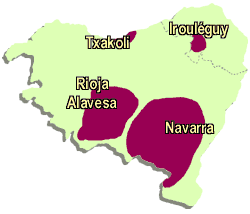 Someone must import the wine to the US since it is available at Smith & Vine in Brooklyn for $28 (find this wine). The price is a little high–if it were $15 wine it would be a screaming buy–but with the dollar tanking, it's not likely to get any cheaper, sadly.
Congratulations to Steve who correctly guessed this difficult, mystery vineyard location–we'd expect nothing less from the founder of the Wine Century Club!