You may not be able to travel with wine in the cabin any more, but you can still bring it on the plane–as checked baggage.
It was with a dash of hope and a tinge of desperation that I did just that yesterday. I needed some wines for a tasting this Saturday in New York. And I tracked down some Vieux Telegraphe 04 at a shop while I was in Chicago over the weekend. I ended up buying a case of wine total in the Windy City.
So I lowered twelve bottles into a previously used styrofoam shipper, sealed it up, and dropped it at O'Hare's curbside check-in. Unfortunately, the skycap's line was slowed with live animals and a large family, so I eventually hoisted my 40 lb, handleless box as well as my other bag to check and my carry-on and shuffled in to the computer self check-in.
After that I had to pick up my items, bring them to be weighed and continue my shuffle over to the TSA. I lingered to see the box enter the enormous scanning machine. After my corkscrew was confiscated on the outbound leg of my trip, I certainly didn't want this delayed or destroyed. The box appeared on the belt out of the scanner and the TSA agent leaned over, gave it a squiggle with a marker, and set the box on its way down a second belt to the plane. Phew.
I remember seeing a documentary about life inside Heathrow when I lived in London a decade ago. One of the scandalous things was that the bags can have a 12-foot free fall from one conveyor belt to the next. Yikes. Hopefully O'Hare has a more gentle system.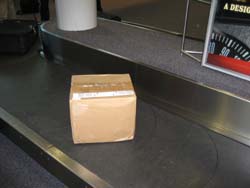 After arriving in New York, I saw my bag, but where was my box? Finally, it appeared! And it was unharmed! I might just do this again.
Some things to bear in mind for checking wine:
* Make sure the wine is worth it. There's a lot of lifting involved and the wine really has to be worth the schlep-faktor, either in terms of price or sentimental value.
* Get dropped off at curbside. Even though my line was slow, I was happy I wasn't lugging it across the parking lot of the rental car company.
* Check the airline's policy. I flew on American, and they allow a box as long is it doesn't exceed 50 lbs or 60 linear inches (h + w + l).
* If you're using a styrofoam shipping box, try to reuse one. They are not environmentally friendly. But then again, neither is air travel.
* Each passenger is allowed two bags on many airlines, so don't forget that you can use the baggage quota of the whole family! (just be sure you can fit it all in the car/taxi at home)
tags: wine | buying wine | wine travel | air travel