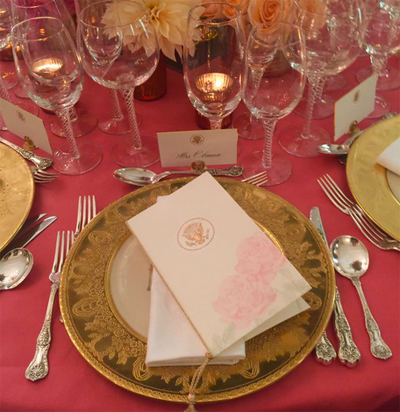 Tomorrow night, President and Mrs. Obama will host President Xi Jinping of China for a State Dinner at the White House. And we have been able to procure the menu for the "Autumn feast"–with the wine pairings!
The White House has a tradition of serving only American wines. This policy has been in place since the 1960s, though "Tricky Dick" Nixon was known to pour American wines for guests, while he had Chateau Margaux served to him from a bottle wrapped in a white cloth napkin.
Thus it seems odd that the first wine on the menu tomorrow night is listed as "Shaoxing wine." Shaoxing wine is a traditional Chinese wine fermented from rice. While no vintage or producer is listed on the menu, one is left to assume that this is, in fact, a wine…from China! Is this a break from the tradition of serving only American wines? It turns out: no. A query to a White House staffer clarified that the rice wine from China is in fact only an *ingredient* in the soup and will not be served qua wine.
Even if it were served , it's not necessarily a bad thing to pour a wine from the guest of honor's country. In fact, it can be respectful to show the honored (American) guests to the country's wines. But I'm fine with the all-American approach too. Earlier this year, there was a sake toast (after the domestic sparkler) for Japan's PM Abe.
The last state dinner for a Chinese president, the White House served
a back-vintage wine that fetched about $400 a bottle (though that's not what they paid) and got pilloried for the cost. The white and the red at this dinner are the Penner-Ash Viogner from Oregon clocking in at $23 (find this wine at retail) and the Pride Mountain Merlot "Vintner select" hitting the register for $80 a bottle (find this wine at retail). These will pair with Maine lobster and Colorado lamb.
The final wine, used for the toast, will be the Schramsberg Crémant Demi-Sec 2011 (find this wine at retail). Even though they have been poured over 100 times at the White House, having a Schramsberg nonetheless hearkens back to Nixon's 1972 "toast to peace" with Zhou En-Lai. But…the wine served tomorrow is a sweet demi-sec rather than a blanc de blanc, continuing the undiplomatic predilection of the White House usher for serving off-dry sparkling wines at state dinners.
The wines are selected by the White House usher, Daniel Shanks who has served three presidents. Anita Lo, the chef owner of Annisa in NYC, will be in the kitchens for this the ninth state dinner under Obama.