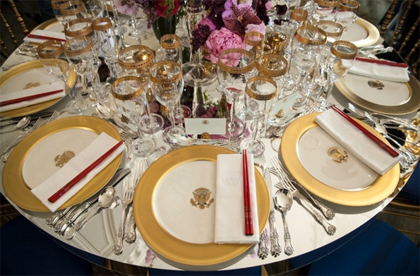 There was a state dinner last night at the White House–the eighth for the Obamas–in honor of visiting Japanese PM Shinzo Abe. About 200 people attended, new china was revealed (above), and "Iron Chef" Masaharu Morimoto was in da haus. Recall that Obama and PM Abe ate at the counter of sushi master Jiro Ono last year, so they clearly like good food.
But what vin-quiring minds want to know is…what were the wines? Would this be a lucky 8 for PM Abe given the lackluster wines the White House wine steward served previously?
The full menu is reproduced below so you can see the wines with the various course. The headline is that the head of the Sonoma Marketing Board (is there such a thing?) must be grinning like a cheshire cat since it was an all-Sonoma lineup. A vinous grand slam (or wait, with three wines, would that only be a triple?). First up was 2013 Ryo-fu Chardonnay from Ken and Akiko Freeman, followed by the 2010 Morlet Family Vineyards "Joli Coeur," a pinot noir from the Sonoma Coast, and finally, the 2007 Iron Horse "Russian River Cuvee."
While Sonoma is a wonderful place, It's not clear what was driving Daniel Shanks, the White House Usher, in featuring the all-Sonoma lineup: there are other great places making wine in America. I personally would have included a domestic dry riesling as a white because there are some good ones now; they are also spring-y and pair well with Asian foods. And Luc Morlet, wow, one of his wines hasn't been featured since…oh, last year's dinner for Francois Hollande. Again, same comments as Sonoma: there are a lot of great pinot noirs being made in the US, so why the repetition, Mr. Shanks? And Iron Horse is frequently served (btw, this specific wine is not on their web site so it could be a sweet sparkling wine, which Shanks has served previously).
The champagne toast was replaced by a sake toast. Full menu follows below:
Toro Tartare and Caesar Sashimi Salad
Smoked Salmon – Grilled Chicken – Koji
Vegetable Consommé En Croute and Shikai Maki
Bamboo Shoots – Wailea Hearts of Palm – Pineapple
Tempura Cured Ham
Freeman Chardonnay "Ryo-fu" 2013
American Wagyu Beef Tenderloin
Spring Vegetables – Maui Onion Veal Jus
Morlet Pinot Noir "Joli Coeur" 2010
Silken Custard Cake
Kuromitsu Sauce – Fresh Fruit – Abekawa Mocha
A Sip of Tea
Matcha Strawberry Square – Sencha Tea Cup
Tea and lemon Cakes – Sweet Tea Chocolates
Iron Horse "Russian River Cuvee" 2007
Previous state dinner coverage