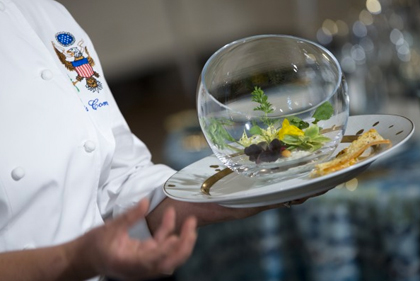 Breaking from tradition, the White House announced the wines to be served at tonight's state dinner honoring President Francois Hollande and Madame–oh nevermind. So instead of engaging in subterfuge or speculation, we have the list. Here they are:
Morlet "La Proportion Doree" 2011 — Napa Valley, California (find this wine)
Chester-Kidder Red Blend 2009 — Columbia Valley, Washington (find this wine)
Thibaut-Jannison "Blanc de Chardonnay" — Monticello, Virginia (find this wine)
Uh, come again? These are odd wines to serve at a state dinner. First, they are modest but after getting blowback from actually serving some expensive wines, the Obama White House seems to have made a conscious choice to bring down the price of the wines. This is unfortunate: given the White House policy of only serving American wines, they really should showcase the best of what America is making, irrespective of price. Sure, State Dinners are expensive, but has anyone taken a look at the Department of Defense budget and procurement lately? Fine wine at a state dinner is the equivalent of a few toilet seats and wrenches at the DoD.
Further, the French connections here seem modest at best. Sure, Obama and Hollande went to Monticello yesterday so why not pile that on again and play the French vintner card (oh, and White House Usher Dan Shanks seems to LOVE LOVE LOVE that wine since he serves it with great regularity). A French director of winemaking at Allen Shoup's Long Shadows project that made the Chester Kidder? Yikes, seems like grasping at straws. Why not one of the delicious wines from Domaine Drouhin in Oregon if you wanted the French vintner/Northwest angle? Or, since it is being served with beef, how about Dominus, made in Napa under the watchful eye of Christian Moueix. The 1991 is drinking beautifully and, ya know, is fit for a Président.
And the Morlet sweet white "La Proportion Doree"? Really, their "Coup de Coeur" might be their best wine to pour for President Hollande! But the French vintner thing is kind of played out by this point. Why not pour something from new wave California, inspired by France made by Americans, such as a trousseau? There are so many ways to play this other than the foursquare approach that Shanks chose.
At any rate, hats off to Michelle Obama for serving the greens and pickled vegetables from the White House garden. And, also in contrast to previous state dinners, the kitchen is using Twitter and Instagram to distribute photos of the foods. Menu after the jump.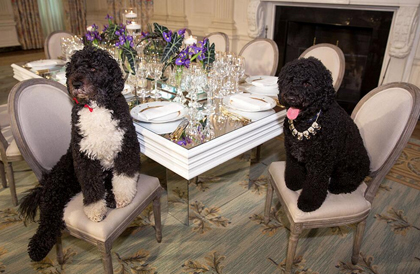 At the dinner, guests will first enter the White House and proceed through a receiving line to be greeted inside the oval-shaped Blue Room by Obama and his wife, before exiting and boarding an old-fashioned trolley for a ride to the tent for dinner and Blige's high-octane musical performance.

The first course will feature American Osetra caviar, farmed from the estuaries of Illinois, paired with quail eggs from Pennsylvania and a dozen varieties of potatoes from farms in New York, Idaho and California.

That will be followed by a salad of petite radishes and baby carrots on a bed of lettuce and splashed with red-wine vinaigrette made using honey from the beehive on the South Lawn. The salad will be served in a clear, glass bowl and resemble a terrarium.

The main course, dry-aged rib eye beef from a farm in Greeley, Colo., will be served with blue cheese, charred shallots, oyster mushrooms and braised chard.

Dessert is chocolate malted cake, described as a modern version of a layer cake made with bittersweet chocolate from Obama's native Hawaii, Florida tangerines and served with vanilla ice cream from Pennsylvania. After dinner, guests can dip into a serving dish made entirely of sugar to sample fudge made of Vermont maple syrup, shortbread cookies made with lavender from Mrs. Obama's garden and cotton candy dusted with orange zest. via AP