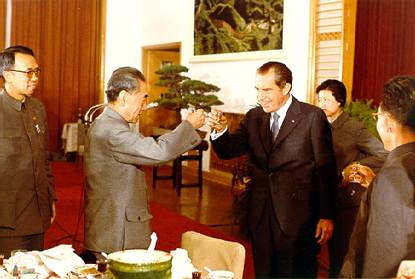 Schramsberg is an iconic American sparkling wine and it's no surprise that it as been poured at the White House over 100 times. Last week, I caught up with Hugh Davies on the phone to ask him about the experiences for this second installment of our two-part mini-series, Entertainer-in-Chief. Two instances stood out to me of serving Schramsberg at state events.
Hugh, 42, told me that in 1972, his dad, Jack, got word from the Nixon White House that they would need 13 cases of Schramsberg 1969 blanc de blanc. And those cases had to be delivered to Travis Air Force Base. Hugh said that it was all a bit mysterious but his dad loaded up the cases into his jeep, drove them over to the Base where he got paid and left the wine.
Then three weeks later, images of Nixon's historic trip to China were broadcast back to the US. And there was good old Nixon raising a glass of Schramsberg with Premier Zhou En Lai in a "toast to peace." Hugh said that Barbara Walters reported from Tiananmen Square that Nixon and Zhou had just toasted with the Schramsberg "blank de blank." Thirteen cases must have kept the whole delegation happy!
In what would be a bookend to state dinners and Schramsberg during Hugh's mom's lifetime, the Schramsberg brut rose 2004 was served at the state dinner with Queen Elizabeth II in Washington last year. The Teetoaler-in-Chief did not call and there was no drop-off at an AFB. Instead, the head usher just ordered it through the local distributor and Hugh didn't even know it was being served.
Image credit, click through for more photos from the historic trip including this one, no doubt after the 13 cases of Schramsberg.