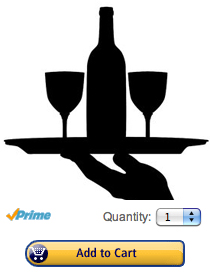 While Amazon shoppers can click and add almost anything to their carts, one thing has eluded them: wine.
Amazon's first foray into wine had the potential to change the way Americans buy wine, shaking up the archaic set of laws that limit wine choices and boost prices for consumers, particularly those in states that do not have a vibrant culture of wine retail and distribution.
But this sequel seems less than earth-shattering. While the details are still emerging, the Wall Street Journal builds on reporting from Wine Industry Insight to paint a picture of a glorified "marketplace" system. In it, Amazon will expose their enormous customer base to offers from wineries, which will fulfill the orders themselves with Amazon receiving a fee of 15%, according to the WSJ. There's no mention of how much shipping will be, including whether the orders would qualify for Amazon's "Prime" service that has free two-day shipping. If they do qualify, some wineries may turn to Amazon instead of flash sites to unload any surplus inventory.
Since wineries can ship to about three dozen states if they have the proper paperwork on file, this has the potential to affect a lot of consumers. But there are a lot of drawbacks too since consumers would apparently have to order from one winery at a time since there is no warehouse fulfilling the orders. Also, wines will likely be at a higher price to justify the shipping charges and there will be no imported wines available. (Retailers, by contrast, can only ship to about a dozen states legally.)
So while it is better than nothing, Amazon's foray into wine this time seems less ambitious. That's a pity since the retailer and logistics champion could have been the wine consumer's greatest ally in the battle over interstate shipping. Perhaps one day…
What do you think–is this a big deal? Would you be more likely to order wine from California wineries via Amazon?
Related: "Amazon stops selling wine before it ever starts"