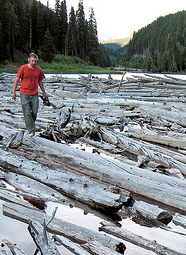 Back in March 2008, when word leaked out about Amazon's possibly selling wine, Mike Steinberger asked, hopefully, whether Amazon.com could end the war over direct wine deliveries. He continued: "the entry of the Internet retailing colossus into the business seemed just the thing to finally break the logjam over interstate wine shipping."
Instead, the logjam crushed Amazon (AMZN). Late Friday, winebusiness.com ran a story that Amazon was putting its wine retailing business on hold, citing correspondence between amazon and wineries. I contacted members of the AmazonWine team for comment and they were either away on vacation reply or said that they could not comment. The Wall Street Journal got through to a spokesman who confirmed the wine trial was over.
The intractable logjam was the interstate shipping laws that govern interstate wine shipping. You can get 200 pages or so on it in my book Wine Politics: How Governments, Environmentalists, Mobsters, and Critics Influence the Wines We Drink. Or you can check out Tom Wark's post for a more concise background on the logjam known as the three-tier system. Further, California law on unlicensed "third parties" may have affected the group's plans.
I look forward to the final analysis of how exactly Amazon attempted to achieve a different structuring of interstate wine retail and why, sadly, it flopped. While AmazonWine kept program was kept under wraps, conventional wisdom is already blaming the bankruptcy of New Vine Logistics, which put the domestic wine component in jeopardy (imported wines were also to be available).
Given the economics of shipping wine, the company may have been targeting higher-priced bottles. In that regard, the economic backdrop didn't help the plan as high-end wine sales have softened in the past year even though overall consumption of (lower-priced) wine is slightly higher.

In other news, Forbes.com ran a piece late Friday piece entitled, "Must-read wine blogs." It's a must-read itself and will give you some tips on some more blogs to add to your feed reader, if those good ones mentioned are not in yours already.