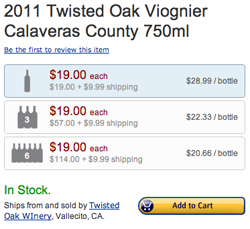 Amazon Wine
went live today, in time for the important fourth quarter of wine sales.
The site appears very similar to what had been discovered previously (read how it works for wineries) and offers exclusively domestic wines with orders fulfilled by wineries. Shipping is $9.99 for up to six bottles and you can only order from one winery per order. Customers in only 12 states can order wine at this time. As of this second, there are 1,054 wines available for purchase, sortable by point scores, price, and even alcohol level. External links to retailers are also available, greatly expanding that number and adding imported wines.
It will be interesting to see how the program does. In general, wineries do not offer the best prices for their wines; retailers do. A quick search of a few wines plugged into wine-searcher, a database of wine retailers, revealed pre-shipping prices 10-25% lower than those offered on amazon.
While the pricing may be underwhelming, one area that Amazon Wine
could have an enormous impact is in the user wine reviews. Right now, the space is dominated by CellarTracker, which has more community and a generally wine-savvy crowd. But amazon has mastered SEO, so if their wine listings start appearing at the top of organic search results, wine geeks could be drawn to post (or cross-post) on amazon. If they can find wines of interest…