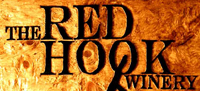 LOST: inventory. But not hope.
The winemaker at Red Hook Winery told nonabrooklyn that the ambitious project on Pier 41 has to "assume a total loss" of all wine on the premises in the aftermath of Hurricane Sandy. They hope to continue but admit that their future hinges on insurance policies paying out. Best of luck to Christopher Nicolson, Robert Foley and Abe Schoener.
SIPPED and SPIT: shipping fees
The Press Democrat has a lengthy story on Amazon wine. In it, they report that the shipping fees will be $9.99 for six bottles and $19.96 for 12. Seems below the market price so make that a SIP for consumers and a SPIT for the wineries, who will likely be doing the fulfillment. [pressdemocrat]
SIPPED: calories
The evergreen wine topic of calories in wine gets a graphic look and comparison to beer over at WineFolly. But, sadly, the graphics choose to make wine look less cal-o-rific, even when a standard wine serving could likely have more calories than a standard beer (a lager). Basic rule: more alcohol = more calories.
GLUGGED: A Nebuchadnezzar of Trockenbeerenauslese? Eegad! [Reuters]