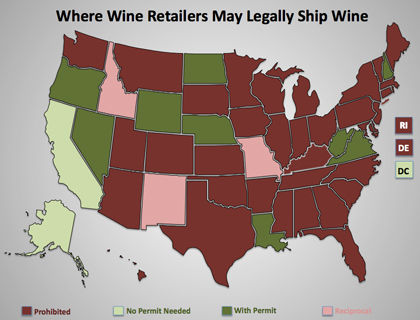 In the comments of our recent discussion of the rosé drought that was gripping the Hamptons, a commenter said that the easy answer was to have the wine shipped in (via Gulfstream jet, natch). But, seriously, couldn't they order wine from an out-of-state retailer and have it sent via UPS?
Well, they could but it wouldn't be legal. According to a rather sobering map from the Specialty Wine Retailers' Association, New York is one of 39 states where it is illegal to have wine sent from an out-of-state retailer. A 2005 decision from the Supreme Court rolled back many barriers to shipping wine from wineries to consumers, as states had to strike down laws that discriminated against out-of-state wineries while allowing in-state wineries to ship and about three dozen of them have now leveled the playing field. It's a no-brainer to me that this should apply to wine shops as well; however, I am not Chief Justice and it's still an open legal question whether the 2005 decision applies to retailers. Free shipping from wines stores is much more important to the average wine consumer since it would lead to consumers being able to find the best price or provenance anywhere for a range of wines, including those under $20; winery-direct shipping tends to focus on wines north of $20.
Some states, like New York, have porous borders–no eight-foot fence to keep those wine shipments out. Others, such as Massachusetts and Pennsylvania, have found ways to keep wine shipments out or at least down by working with the main carriers, UPS and FedEx. (A New York retailer once told be that shipments to Massachusetts' islands were often sent back because of the local shops tipped off UPS drivers to report any incoming packages about yay big weighing 40 lbs.) Whether there's little enforcement or not, wine lovers across the country would be better served with free, legal trade. Sadly, with no consumer movement and the judicial efforts of the Specialty Wine Retailers stymied, there seems little to break the impasse.