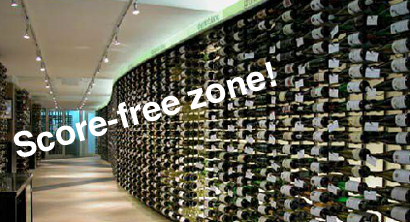 An item on Bloomberg yesterday detailed how Spaniards are drinking less wine, which has prompted Spanish wineries to pursue export markets more. From this perspective, it's partially understandable why Spanish wineries might want to pay a fee to invite Wine Advocate critic Jay Miller to their regions. They want to crack into the US market and they figure the best way to do so is to get a score from the Wine Advocate (even if one document from the regional organization referred to the scores as "Parker points").
But that sales strategy is sooo 1990s! In my view, many American wine consumers have moved beyond scores, and an increasing number of wine shops have too. What do you think: should the wine industry move beyond scores? Are scores less relevant today to consumers in your experience than they were five or ten years ago? It seems to me that today the trade clings to scores more readily than consumers do. But one importer I spoke with recently Jose Pastor, has said no to scores.
I asked the Twitterverse for shops that do not use third-party tasting notes or scores. The unverified responses appear after the jump–hit the comments to keep the list going!
In NYC:
Astor Wines
Chambers Street Wines
Crush Wines
Le Du Wines
Frankly Wines
Slope Cellars
Dandelion Wines
Olivino Wines
Grapes Wine Co (no Miller scores)
The Wine Bottega (Boston)
East End Wines (Austin, TX)
J. Emerson's Wine (Richmond, VA)
Vinsite Wine Shop (Asheville, NC)
Perman Wines (Chicago)
Red & White Wines (Chicago)
The Goddess & Grocer (Chicago)
The Bottle Shop (Wilmette, IL)
Du Vin Fine Wines (Alameda, CA)
Terroir (San Francicso)
Derniere Goutte (Paris, France)
Related: "Wine Ratings Might Not Pass the Sobriety Test" [NYTimes.com]