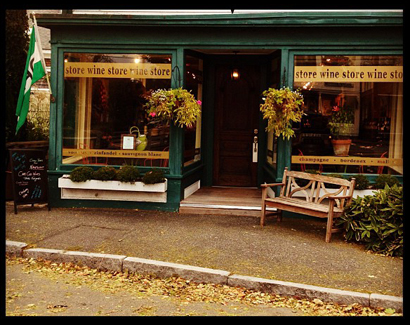 Massachusetts is a state coveted by wine retailers: with strong tech and finance as well as other industries, major research centers and the jet-set destinations of Martha's Vineyard and Nantucket, it's fair to say there's a large population interested in wine. However, the state is one of the hardest for retailers to ship wine into. Fortunately for the locals, this lack of external competition doesn't lead to a poor selection and high prices; some of the state's wine shops offer some terrific wines and, even reasonable prices can be found. And as of last year, there's no sales tax on wine (and beer and spirits) in the state, so that helps stretch the consumer's wine dollar seven percent farther than other states. When I'm traveling, I always love to check out the local wine stores; here are a few that I have visited in my wanderings in and through the state in the past year.
The Wine Bottega, 341 Hanover St, Boston.
This terrific, small shop seemingly ripped out of Brooklyn and placed in the North End has a "manifesto" for "real" wine and is a points-free zone. The well-curated selection of the delicious esoterica of the wine world makes it a great stop for cru Beaujolais, wines of the Loire, sherry and more. Offers 10% discount on mixed cases as well as 15% on solid cases. Definitely worth a stop if you're in the North End but they also ship.
Vintages, 53 Commonwealth Ave, Concord, MA
Owner Eric Broege clearly doesn't get tired of talking customers out of obvious, big name wines in this well-heeled town because he doesn't stock many. Instead, he offers lots of enticing wines from small Italian growers as well as some great domaines and estates in the Loire, Burgundy, Jura, Germany and the Left Coast. He has a small selection of craft beers too and even a few box wines from vignerons stashed beneath the counter. If every town in America had a shop like this, the nature of our wine discussion would be a whole lot different.
Gordon's, 894 Main St., Waltham, MA
A bigger store, the list prices on some items appear to be a very full markup. But case purchases receive a 20% discount, which really gets your attention. I bought a mixed case of wines here while driving by last winter and was happy with the selection (including a few bottles of the rare Do Ferreiro Cepas Vellas, possibly one of the best two best white wines from Spain). One note: if you see a wine such as the Marcel Lapierre Morgon on the store's website that might make you want to stop off of 95, call first to make sure it's in stock. Good craft beers too, some at super-low prices.
The Brown Jug, 1 Jarves St., Sandwich, MA
The Cape, for all its charms and attractions, remains surprisingly underserved by good wine stores. Through the thicket of package stores selling beer, plonk and lottery tickets on the Cape, the Brown Jug in Sandwich (pictured above) stands tall as the best that I have found. They have Vouvray etched into the plate glass window at the front of the store; inside, there are quite a few enticing selections ranging from Chablis to Domaine Huet and several Spanish wines from importer Jose Pastor. Good craft beers too. And several epicurean delights at the sister shop next door.
If you live in Massachusetts or go there a lot, which are some of your favorite stores and why? What do you think of the selections and prices in the state?