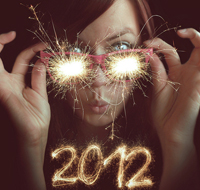 The Mayans forecast a cataclysmic finish for 2012. My crystal wine glasses are not as clear, so instead of forecasts, I ask twenty questions relevant to the wine world in 2012.
Will dogmatism die? Sommelier Raj Parr disavows 14% as a litmus test for pinot; other somms say they are not into "natural" or organic wine movement as much as they are into the "good wine movement."
Will prices of European wines fall if the euro weakens? Dream on.
Will India drink more wine? If import tariffs are significantly lowered, it can only help.
Will China go straight to the source and buy more wineries? The state-owned COFCO bought Biscottes in Chile in 2010, in part as a result of preferential tariffs; it could be a harbinger of things to come.
Will Americans put less wine on the table? Economic malaise could derail two decades of per capita growth in wine consumption; craft beer represents a real threat.
Will the Chinese embrace white wines? They go much better with the cuisine than reds.
Will Yao Ming's small production wine boost all of California wine in China?
Will Bordeaux downturn morph into a free fall? Probably not but the top wines have already slowed notably.
Will box wines get better? In the category that producers and consumers like for the cost-savings, the trend is up but it has a long way to go.
Will wine writers disclose potential conflicts of interest? Transparency is key.
Will more wine blogs cease? The lack of a financial model still plagues the medium.
Will remaining wine blogs get better? Twitter and Facebook have siphoned off the "what I drank last night" posts; in order to break through the chatter, blogs have to have a strong voice, point of view, or original contribution relevant to the broader discussion about wine.
Will a wine newsletter fold? Charging anything limits audience size.
Will points self-destruct? Score inflation is rampant and remains the biggest threat to scores themselves.
Will more retailers become points-free zones? As Americans' confidence with wine climbs, shops may not need to turn to third-party shelf-talkers.
Will freer trade in wine emerge within the US? New Jersey indicates a limited yes but the biggest unknown is what will happen with HR 1161 in the unpredictable lame duck Congress in November and December.
Will romorantin be the next hot grape variety? No, but it's worth trying a good example.
Will malbec's growth slow? Probably, if only because it can't grow at 49% forever.
Will wine come from more far-flung parts of the world? Yes–crack a foreign pronunciation guide to unlock the frequent discount hidden behind unpronounceable or difficult words on labels.
Will wine remain fun? Oh yes.
Have questions of your own? Hit the comments and share them!