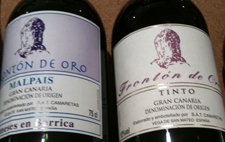 This week, our "set of titanium corkscrews" award goes to Jose Pastor. The 30-year-old Bay Area resident has a difficult business life selling Americans on the virtues of wines from such little-known grapes as Listan Blanco, Baboso, or Mantonegro from the Canary Islands and Mallorca. And since 2009, he's added another challenge: selling his wines without Wine Advocate scores.
Citing fatigue of "living by the rule of the trade," he told me at the recent tasting of his wines in New York that he has not journeyed to Maryland to present his portfolio to the Wine Advocate for two years. It's also a philosophical difference over scoring.
"Wine is an agricultural thing," he said. "You can't score a tomato."
He added that spending 30 or 40 seconds tasting a wine failed to capture everything about it. "You have to have a respect for the work that has been done. That's hard to do without being there, meeting the people and seeing the land."
So how does he sell his wine? He says that good retailers care how the wine got to the glass, not just whats in it, he says. He works with retailers such as Chambers Street Wines in NYC and Terroir in SF as well as restaurants.
"Things are really changing. People in the trade want to know more first-hand, to visit, to learn, to taste. And consumers too." He says that it's easier to undersand wine talk when it is coming from a fellow consumer, who describes a wine with food–or even over food, sharing the wine together. Then there are no points, no "chocolate and vanilla" descriptors.
"Back in the day, there were only two or three guys with a voice. Now there are many. It's great for wine!"
* * *
The diversity that he celebrates in wine appreciation is also evident in his wines that represent one of the most exciting Spanish portfolios available in the US today. All the wines are from small producers with a focus on wines made with a minimal hand in the cellar. The Benaza white and red are terrific value godello and mencia, respectfully. German Gilabert makes a reasonably priced, organically grown cava from 30-year-old vines.
But perhaps the heart and soul of the portfolio is in the large selection of wines from the Canary Islands, a Spanish territory off the coast of Africa. The little-known grape varieties planted in volcanic soil on their own roots (phylloxera never swam ashore) often at 1,000 meters or more make for a distinctive grouping of wines. They aren't blockbuster wines, but that's not the point–they are distinctive, fresh, and often quite tasty. From Lanzarote's black soils and distinctive, low-yielding viticulture (as we discussed once before) come the wines of Los Bermeos. From Gran Canaria come the high-altitude, peppery wines of Fronton de Oro. And you can get your Listán Negro fix from Tenerife's Tajinaste. I look forward to trying them all with food. And, who knows, perhaps even visiting the islands one day!