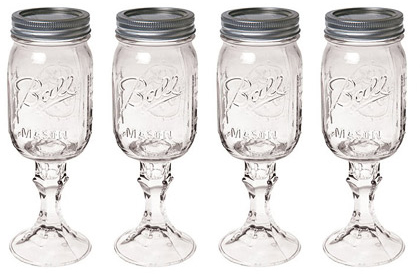 SIPPED: anti-snobbery
What might just be the best-selling wine glass this holiday season? Why, the RedNek wine glass, a Mason jar on top of a candlestick holder as a base. Launched this year, sales have hit $5 million already. Good thing it comes with the lid, making it the travel mug of wine glasses. [CNN]
SPIT: Vinturi aerator
A panel of sommeliers blind tastes wines that have been put through the Vinturi aerator. They admit that it transforms the wine but give three out of four the thumbs down. [bonappetit.com]
SIPPED: bubbly
The NYT tasting panel has some good picks for all your blanc de blancs needs.
SIPPED: malbec, DrBigJ & Stone Temple Pilots?
A new wine shop in Prospect Heights suggests music pairings on their shelf talkers (too bad they also borrow heavily from at least one DrBigJ tasting note without attribution and slap on point scores, instead of pursuing the point-free path). [Village Voice]
SIPPED: carry on
A traveler at Charles De Gaulle airport dropped $60,000 on six bottles of wine. Come on, didn't he know that there are better values in town? [Metro.co.uk]
SIPPED: investigations
Robert Parker has launched an "investigation" into only what transpired in Murcia. And the Institute of Masters of Wine has initiated an investigation into whether Pancho Campo MW has violated their code of conduct. [DrinksBusiness.com]
Wine jobs: Director of Hospitality, retail store general manager, new store sales associate, magazine intern and more!