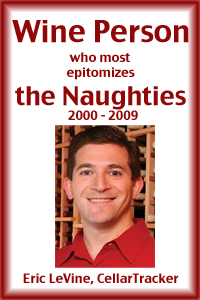 We started with five days of your nominations for the wine person who most personified the decade 2000-2009. (Although if you read Frank Rich or Paul Krugman, you might not exactly want to epitomize this decade, the Naughties.) Wine lovers had an optimistic analysis for the decade as they chose from eight finalists who personified different story lines. And in the end, after 2,842 votes were cast, the winner was clear: Eric LeVine, founder of CellarTracker.com!
Second place in the voting was Gary Vaynerchuk, a wine retailer and internet phenom. With nearly 850,000 followers on Twitter, would Gary summon the VaynerNation to do his bidding? Eric and Gary crossed champagne sabers here and on various of the wine forums. Here's a taste from Twitter:
Gary: @cellartracker hey are u whipping my butt 😉 LOL congrats bro …have a great new years!
Eric: Happy New Year's to you too! You could whip me in 1 sec if U wanted. Love the Misha [Gary's daughter] pic, daddy!
Wow, they are at each other's throats!
If you are not familiar with CellarTracker, check it out or feel free to review all the comments on the previous thread. For your convenience, since some might say that CellarTracker is Zagat to the single critic's Michelin, here's a summary of what people said:
"CellarTracker…represents the rise at the beginning of this century of the power of the consumer critic…The fact that the users have essentially created an instant database of every wine under the sun is astonishing. The value and power of it will only increase as more people use it…Not only has he provided a well thought out system for tracking one's wine experiences, it can be free (if you choose not to donate), it records tasting notes from thousands of different palates (not just one, i.e. Gary), and it has changed the way I purchase old and new wines…a game changer…CellarTracker changes the way wine is stored, appreciated, reviewed when it first appears, and reviewed as it ages. Eric gets my vote…My grown kids laugh because the site is my "home" page…it represents what's right about the web…I can say unequivocally that I would not be the wine drinker I am today without CellarTracker…I would be lost if you took my CellarTracker away!…Long live CT! … And Eric LeVine is one the most rational and most interesting commentators on wine boards."
Well done, Eric! The early betting shows that you are the one to beat for next decade's title as well.