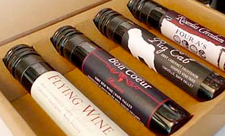 SPIT: volume (how vial!)
Two companies have developed oxygen-free, trial-sized bottles, 50ml in size (1/15th of a normal bottle). The goal is to send samples more easily from wineries to consumers. But don't try to share this bottle over candlelight with your romantic partner unless you want the evening to end before it starts. Perhaps the best use would be a 100ml size since that is the maximum liquid allowable on planes. Ziploc, anyone? [AP; Wines & Vines]
SIPPED: a new look
Eric LeVine, who won the voting here to become the wine person of the decade, has rolled out a gorgeous, comprehensive redesign with new functionality of cellartracker and on the URL grapestories.com.
SIPPED: Recovery
Chile's wine industry is digging from the massive earthquake. According to an official statement from Wines of Chile the total damage 125mln liters, 12% of last year's harvest, and valued at $250 million. They state that the industry's exports "will return to normal within a very short period of time and without major difficulties."
SIPPED: the ride continues
Consumers have filed a class-action lawsuit in California against E&J Gallo over the faux pinot, Red Bicyclette. [PRweb.com]