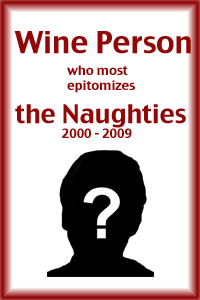 Thanks to everyone for the fascinating discussion suggesting nominees for the Wine Person of the Decade. Now it's voting time! To make the voting somewhat more manageable, a select committee (that may or may not have included more people than just me) has now chosen a list of finalists.
John Casella: CEO of Casella Wines, which launched the now ubiquitous [yellow tail] in June 2001.
Fred Franzia: The California-based creator of Two Buck Chuck, which debuted in 2002, believes that no wine should sell for more than $10 a bottle.
Paul Giamatti: played role of Miles in Sideways (2004); crushed the fortunes of Merlot with a single line while the film boosted interest in Pinot Noir
Shin & Yoko Kobayshi: authors of "The Drops of the Gods," a Japanese comic started in 2004 that is, according to the NYT, "the most influential voice in Asia's wine markets."
Eric LeVine: Formerly of Microsoft, LeVine opened CellarTracker.com to the public in April 2004; now, it is the dominant site for user-generated tasting notes with over one million wine reviews.
Robert Parker: Critic who popularized the 100-point scoring system; as winemaker Randall Grahm put it in the comments: "His influence on winemaking styles world-over is massive, a bit like the light-bending properties of a ginormous black hole on nearby astral bodies."
Terry Theise: wine importer who has championed "grower" champagnes, ones from those who grow the grapes as opposed to large houses
Gary Vaynerchuk: dynamic wine retailer; host of almost 800 episodes of Wine Library TV; internet phenom who is, in his words, changing the wine world.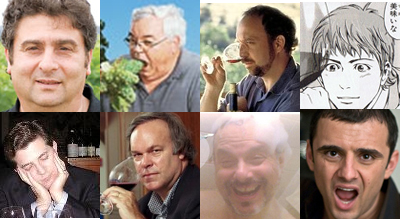 Which wine person most epitomizes the decade of the Naughties (2000-2009)?
Eric LeVine (CellarTracker.com) (58%, 1,662 Votes)
Gary Vaynerchuk (wine retailer and internet phenom) (21%, 599 Votes)
Robert Parker (The Wine Advocate) (8%, 217 Votes)
Paul Giamatti (Sideways) (4%, 100 Votes)
Terry Theise (importer of grower Champagne & more) (3%, 80 Votes)
John Casella (Yellow Tail) (3%, 76 Votes)
Fred Franzia (Two Buck Chuck) (3%, 74 Votes)
Shin & Yoko Kobayashi (The Drops of the Gods) (1%, 34 Votes)
Total Voters: 2,842

Loading ...
If you'd like to elaborate why you voted the way you did, hit the comments. Nominees appear alphabetically and from left to right in the images. You can only vote for one person. Voting ends with the decade on 12/31.