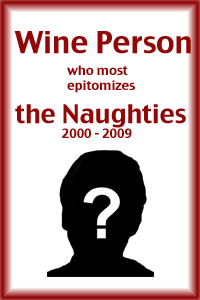 Yesterday on Twitter, we opened a lively discussion about who should be the Wine Person of the Decade (follow along). That's right, who in the wine world most epitomizes the decade that may one day be called the Naughties? Here's a summary of the leading nominees thus far–feel free to hit the comments to add others, especially if you have a reason of why they embody the Naughties. Voting starts next week on selected finalists.
@pmabray: two people come to mind Gary Vaynerchuk and Jonathan Newman (formerly head buyer of the Pennsylvania Liquor Control Board)
@1WineDude: @drvino you're kidding, right? just give it to Gary V now and get it over with already 🙂
James Molesworth: Michel Chapoutier brought Biodynamics to mainstream…Nicolas Catena, driving force behind resurgence of Argentina….I'd consider both of those categories (which are consumed by the way) way more important than any retailer, ever…
@candidwines: Has anyone had a greater impact on a grape, a region, or a nation's awareness of both than Sideways writer/director Alexander Payne?
@evandawson: I'd go with someone who took wine away from the pull of sweet, massive, high ABV bombs. I'm sure there's someone. (Not Nossiter!) I'd say Alice F
@makerstable: Randall Grahm, master of vinous self-reinvention, champion of terroir. Swimming upstream, a little ahead of the rest of the school.


@RichardPF: For an offbeat pick, Shin & Yoko Kibayashi, the writers of "The Drops of the Gods," a very influential Japanese wine comic …
@alpanasingh: It would have to be someone who has impacted the value wine market which has improved significantly over the last 10 yrs. Jorge Ordonez?
@dalecruse: @drvino Wine person of the decade is the consumer! Buying more, wider varieties, no longer just listening to what establishment tells them.
@RobertDwyer: Chuck Wagner: Caymus was the most consistent producer in America's favorite category in the decade.
James Molesworth: Manfred Prum – he's probably the ultimate low-alcohol producer…so out of date, he's back in style…
RandallGrahm: Consider Nicolas Joly. Obviously doesn't make a lot of wine himself, but his impact is far and wide.
@WineExpo: Terry Theise! Reason–> 5000% increase in the market for Grower Champagne
@cathycorison: Jancis Robinson
Alice Feiring: Naughties award? Clark Smith.
@candidwines: I suppose if total influence is my grounds for nominations, I have to consider (thru a clenched jaw) whoever created yellow tail.
Gary Vaynerchuk: hnmmmm people behind sideways or two buck chuck
@sdelong: @drvino wait, it's all so clear now: Fred Franzia. Clearer than crossflow filtration. Clearer than vigorous enzyme treatments…