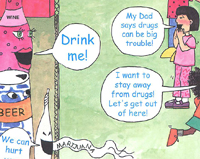 Last week, our first-grade son brought a pamphlet home from public school equating wine and pot.
On one page, entitled "Drugs are trouble," wine, beer, marijuana and cigarettes are graphically depicted in a cage making cat calls at children. Wine, marijuana; they're both drugs! On the flip side, at least they differentiate between wine and illegal drugs–all while introducing the topics of crack and cocaine!
I can see it now: "Sonny, come help daddy pick out a nice wine for tonight's dinner. Should we have a '47 Cheval Blanc or a '61 Lafite? Look, there's your birth year wine over there that we can drink together when you turn 21. Oh, watch out–don't step on daddy's crystal crack pipe!"
In all seriousness, for six-year-olds? Come on. The whole discussion is not only heavy-handed but also grossly premature. (Checking on the web site of the company that produced the educational materials, I see topics such as "fighting germs" and "following directions" for first graders; drugs and alcohol are saved for fifth grade so someone at the school may have been overzealous.) We'll just keep on having wine with dinner and our son is welcome to smell it whenever he wants.
For the parents out there, what have you seen about in your children's schooling? How has wine consumption been framed, if at all, for your kids outside of the home? And what do you do if it clashes with your worldview?
Related: "Should kids be banned from wineries?
"Maine prohibits children from observing wine tasting at stores